Refugees start training course in swimming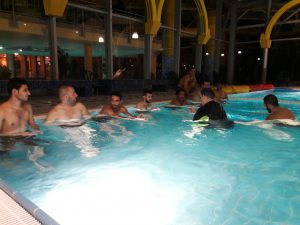 Starting on the 12th of November a new course has started for Rheinbach refugees. Severals chirldren and adults are learning the basics of swimming in the Monte Mare of Rheinbach.
The courses are financed by the Kreissportbund Rhein-Sieg e.V., the Refugee Helpergroup and the Monte Mare.
This is another step of integration in our society. All starters had much fun. They are glad to learn swimmung by now.